Do you suffer from painful periods? You're not alone!
---
HerHappyHealth.com is a participant in the Amazon Associates Program. This post contains affiliate links, and we may earn commission from qualifying purchases at no extra cost to you. This website is reader-supported, so thank you from the bottom of our hearts!
---
Many women suffer from menstrual ailments and look for natural remedies to help soothe symptoms. Between mood swings, abdominal discomfort, excessive bleeding, and uterine pain, the monthly mission to reduce menstrual despair is no joke! But have you ever considered that drinking tea can relieve cramps, reduce inflammation, and provide other potential health benefits?
We know that period discomforts can get in the way of living life to its fullest potential. We've been there, desperately searching for a solution in a sea of dubious remedies and old wives' tales. It's like a never-ending scavenger hunt of "will this work?"
Lessening menstrual cramps became a mission, so we've hand-picked herbal teas that relieve period pain without artificial ingredients or chemicals. Thankfully, Mother Nature herself has provided us with some of the best natural remedies for when Aunt Flo comes to town.
Put a kettle on and get ready to say 'goodbye' to painful period cramps and 'hello' to serenity, one sip at a time.
Best Women-Owned
Shop Now
Why We Love It
Pink Stork offers this female-formulated herbal blend in a warm cinnamon tea flavor to support hormonal balance, digestive wellness, and energy levels. It contains organic cinnamon bark, organic ginger root, organic licorice root, organic fennel seed, organic chaste tree berry fruit, organic turmeric root, organic chamomile flower, and organic red raspberry leaf.
100% USDA Organic
Non-GMO
Vegan
Caffeine-free
Major Allergen and Gluten-free
Third-party tested
15 biodegradable pyramid sachets per box - each bag makes two servings (30 cups)
This small business was founded by a Military spouse and mama of 6. Along with the CEO, it is women-owned and run – over 80% of Pink Stork's employees are women, so they get it!
Best Single Ingredient
Traditional Medicinals | Raspberry Leaf
Shop Now
Why We Love It
This single-ingredient herbal tea is made by Traditional Medicinals, a well-known company that has existed since 1974. It helps to ease menstrual cramps and has a mild tannic taste, similar to black tea.
100% USDA Organic
Non-GMO Project Verified
FairWild Certified
Certified B Corporation
Certified Kosher
Caffeine-free
Pharmacopoeial (Pharmacopoeia is a book of quality standards for medicinal substances such as herbs and drugs. These standards ensure the quality, purity, strength, identity, and composition of the substances.)
16 wrapped tea bags
The raspberry leaf grows wild and is hand-gathered in the Gorazde collection region of Bosnia for Traditional Medicinals. The young leaves are at their best when picked in early summer before the fruits start growing. The families who gather the leaves live on small plots of land, and sustainable wild collection is an important source of income for them.
Best Seller
Traditional Medicinals | Healthy Cycle
Shop Now
Why We Love It
This Traditional Medicinals blend harnesses the power of multiple herbs and makes drinking tea a delicious way to help relieve painful period cramps. It includes organic raspberry leaf, organic licorice root, organic stinging nettle leaf, organic dandelion herb and root, organic spearmint leaf, organic rose hip, organic lemon verbena leaf, organic West Indian lemongrass leaf, organic ginger rhizome, and organic chamomile flower. This combination is slightly herbal, with hints of citrus and mint.
100% USDA Organic
Non-GMO Project Verified
FairWild Certified
Certified B Corporation
Certified Kosher
Caffeine-free
Pharmacopoeial (Pharmacopoeia is a book of quality standards for medicinal substances such as herbs and drugs. These standards ensure the quality, purity, strength, identity, and composition of the substances.)
16 wrapped tea bags per box
This company takes pride in delivering consistently quality products by sourcing medicinal-grade plants from ethical trading partnerships.
Best Throughout Life
Earth Mama | Periodic Tea
Shop Now
Why We Love It
This herbal tea by Earth Mama is for three types of "P days": period, postpartum, and perimenopause. It was formulated by a nurse and herbalist, who selected the following ingredients because they work synergistically together: organic cinnamon bark, organic lady's mantle leaf, organic red raspberry leaf, organic stinging nettle leaf, organic lemon balm leaf, organic ginger root, and organic alfalfa leaf.
100% USDA Organic
Non-GMO Project Verified
Certified Kosher
Caffeine-free
Can be used while breastfeeding (NOT for use while pregnant)
Small business
16 tea bags per box
This revitalizing herbal cinnamon tea is perfect for teens starting their periods. Plus, each tea tag has a cute, happy little love note!
Best Loose Leaf
Shop Now
Why We Love It
Ova Moon Daily Flo is intentionally crafted as loose-leaf herbal tea to retain as much flavor as possible. It is formulated with nutrient-packed ingredients to help women feel better all month long! This tea contains antioxidants from organic red raspberry leaf, organic oat straw, rose petals, nettle leaf, and lemon balm.
100% USDA Organic
GMP Certified
Bioavailable ingredients
Vegan
Gluten-free
Caffeine-free
28 servings per bag
Small business
This blend is centered around red raspberry leaf, which can tighten the pelvic area and relieve cramps due to fragarine, an inhibitor of uterine action (in other words: reduces excessive bleeding.)
Ova Moon PMS Tea contains oat straw, which is known to support the endocrine system and stress management. The lemon balm aids in sleep and stress levels, while rose has hormone-rebalancing properties, which could help with acne.
Another star ingredient in this tea is nettle, which improves iron levels and builds healthy hair, strong nails, teeth, and bones. It is also full of vitamin C, vitamin D, and vitamin K, along with minerals like selenium, zinc, and magnesium.
We'll gladly drink to that!
Menstrual Tea FAQs
Dealing with menstrual cramps can be a monthly struggle for women everywhere. Finding effective period pain relief is be time-consuming, besides ensuring the bathroom cupboard is stocked with all the necessary supplies (including dark chocolate, please, and thanks!)
We've compiled a list of the most frequently asked questions about menstrual herbal tea so you can make the best decision for your period needs.
What does menstrual tea do?
Menstrual tea is believed to help women regulate their hormone levels naturally while relieving common ailments like abdominal cramping, bloating, fatigue, and more – all without the side effects of pharmaceutical medications!
Looking back in time
European and Native American women have used herbs such as raspberry leaf to support their menstrual cycles for thousands of years. With that record, they must be on to something good!
Does tea help regulate periods?
There is evidence that tea can help regulate periods and relieve pain.
Different teas contain various beneficial plant compounds, such as flavonoids and tannins, which may reduce inflammation and balance hormones.
If you're looking for an organic way to help relieve menstrual cramps, consider incorporating some wonderfully fragrant herbal tea into your daily routine. You might be pleasantly surprised by how much things improve!
What is the best tea for menstrual cramps?
Many herbal teas can be beneficial for reducing menstrual pain, but some of the most popular are chamomile, ginger, red raspberry leaf, and nettle leaf.
All of these herbs have anti-inflammatory properties, which can help with menstrual cycle pain and discomfort while also supporting the body with essential vitamin A and vitamin C.
What drinks stimulate menstruation?
Certain herbal teas may help stimulate menstruation and regulate periods. For example, peppermint tea has been studied for its ability to encourage menstrual blood flow.
It is important to note that not all herbal teas are suitable during your period, so make sure to consult with your healthcare provider if you have any questions about a specific type.
How can I increase my period flow?
Drinking tea may be beneficial if you want to increase your period flow. Chamomile tea, ginger tea, and cinnamon tea can all help to encourage menstruation while providing essential vitamins and minerals. Additionally, drinking plenty of water is vital for keeping your body hydrated and healthy.
It's recommended to talk to a doctor or naturopath before drinking herbal teas for medicinal purposes.
How does raspberry leaf tea help periods?
Raspberry leaf tea, also known as uterine tonic, has long been used to alleviate menstrual cramps and other period symptoms. While there is limited scientific evidence on the exact benefits of raspberry leaf tea for periods, traditional herbal medicine practitioners have relied on it to help support a healthy cycle for centuries.
The primary active compounds in raspberry leaves are tannins and fragarine, which work together to provide anti-inflammatory and muscle-relaxing properties that can help relieve period cramps. These compounds also contain calcium, magnesium, phosphorus, potassium, and iron that nourish the uterus during menstruation while helping address potential nutrient deficiencies. Additionally, they may assist in reducing heavy bleeding during periods by slowing blood loss from damaged capillaries around the cervix.
Raspberry leaves have been credited with regulating estrogen levels since they contain naturally occurring phytoestrogens, which aid in balancing female hormones. They may even improve fertility by encouraging egg health and reducing inflammation.
What does raspberry leaf tea do to hormones?
Raspberry leaf tea has been linked to healthier hormone levels. The tea contains plant compounds that help balance estrogen and progesterone, two hormones that affect your period. Additionally, raspberry leaf tea has antioxidants that can reduce inflammation and may even improve fertility in women.
Is there a difference between raspberry tea and raspberry leaf tea?
Raspberry tea and raspberry leaf tea are two distinct teas with different benefits.
Raspberry tea is made from the fruit of the raspberry plant.
On the other hand, raspberry leaf tea is brewed using dried leaves from the raspberry plant. This type of tea has been used in traditional medicine for centuries to promote healthy menstruation.
Is chamomile tea good for period pain?
Chamomile tea has anti-spasmodic properties that relieves cramps associated with the menstruation period. It contains glycine compounds that reduce pain and relieve uterine tension. Similar to ginger, chamomile tea may be effective at reducing stomach cramps.
Why should you not drink green tea during menstruation?
Green tea is known for its caffeine content, which can cause anxiety and insomnia. It is not recommended to drink it during menstruation, as it may worsen premenstrual symptoms like bloating or fatigue. Drinking too much of it can even delay your period.
If you must have a cup, do so in moderation.
What not to drink on your period?
It is recommended to avoid caffeinated drinks like coffee, black tea, and green tea during your menstrual cycle, as these may worsen period symptoms. Additionally, it is suggested to limit or cut out alcohol consumption around your period, which may interfere with hormones.
What is the best way to brew tea?
The best way to brew tea is by using a teapot or infuser. Start by boiling water and then add the tea bag or sachet. Let the tea steep according to packaging directions before pouring it into your favorite mug.
If you prefer loose-leaf tea, use an infuser with a fine mesh so the tea leaves don't escape into your cup!
Best Teas For Menstrual Cramps For You
Each woman has her own cycle, unique to her body. Try a variety from the list above to see which one is your favorite.
From single-ingredient sachets to herbal blends with multiple benefits, period tea may ease some discomfort and make that time of the month just a little more bearable!
💡
Remember to always consult with a trusted healthcare provider before starting any new supplements or herbs.
Get ready to pull out your favorite tea set. Steep, sip, and enjoy!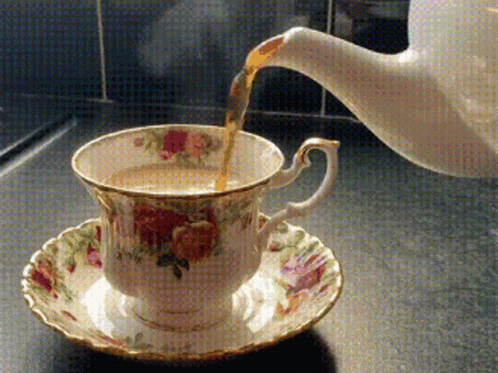 How We Choose
Our carefully curated selection comes from vetting the top-rated menstrual teas. Our team evaluated hundreds of customer reviews to narrow down the best of the best. There is something here for everyone!
---
The content on this website, including text, graphics, images, and other materials, is provided solely for informational or educational purposes. It is important to note that individuals seeking personal medical advice should always consult with a healthcare professional. Her Happy Health and its authors are not responsible and will not be held liable for any errors or omissions in the content of this site.